Report Finds Unsafe Water May Affect 24 Percent of California Public Schools
By Amy Quinton, CAPRADIO
May 5, 2016
Water supplies in many California public schools have repeatedly exceeded safe drinking standards.
The report from the Community Water Center looked at nearly 7,000 public schools around California. It found between 2003 and 2014, up to 24 percent of the schools had water that violated safe standards. 
"Bacterial and arsenic violations were the most common types of violations impacting schools, but they were also followed by the pesticide DBCP, disinfectant byproducts, and nitrates,"says lead author Jenny Rempel with the Community Water Center.
The Central Valley had the greatest number and highest percentage of schools affected by unsafe water. Those schools also had higher percentages of Hispanic, Latino, and low-income students. Rempel says state agencies don't have sufficient information to track the magnitude of the problem.
Drinking Water at Hundreds of California Schools Likely Unsafe, New Report Finds
May 5, 2016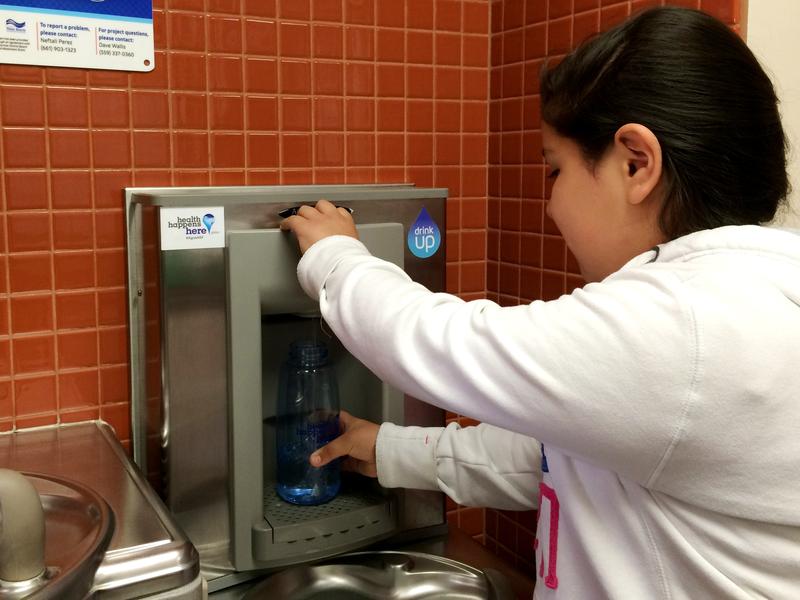 A sixth-grader at El Camino Real Elementary School in Arvin uses a water bottle filling station equipped with an industrial water filter, installed because Arvin's public water is contaminated with arsenic.
A report released today highlights how widespread unsafe drinking water is in California—particularly in schools. 
Between 2003 and 2014, over 900 schools in the state may have provided water that was contaminated with arsenic or bacteria. That's according to the Community Water Center, a non-profit advocacy group based in Sacramento. The report combined publicly available data on water quality violations with the number of schools served by those systems.
In the Central Valley, unsafe water appears to impact at least one in five schools. In the Tulare Lake region, it could be higher than one in three. For now, these numbers are estimates because the state doesn't comprehensively monitor water quality in schools. The center's Jenny Rempel says that's concerning.
"State agencies don't currently have access to sufficient information to assess the magnitude of the problem because they're not monitoring and tracking it," she says. "Thus, state agencies are unable to ensure that children have safe drinking water at school."
The group is currently lobbying for more funding for safe drinking water in Governor Brown's next state budget.
Unsafe Drinking Water Impacts Hundreds of California Schools
By Joe Michaels
May 5, 2016 Students at more than 1,600 California public schools may have been drinking water that did not meet primary standards between 2003-2014. 
Jenny Remple of the Community Water Center, which issued the report, says many of the water supplies serving these schools have repeatedly violated standards.
"The most frequently occurring violations that we were seeing were bacterial and arsenic violations," said Remple. "There were also pesticides, disinfectant by-products and nitrates."
Remple says, while the findings do not necessarily mean parents need to buy bottled water for students, immediate issues must be addressed and the problem needs to be monitored.
"We really need to ensure adequate tracking, transparency and public reporting from state agencies," she added.
The best solution for schools, says Remple, are safe, robust and resilient community-wide water systems.
The Central Valley and Tulare Lake regions had the highest rates of unsafe water while 12 to 15 percent of Sacramento-area schools were impacted.
Like us to spread the word